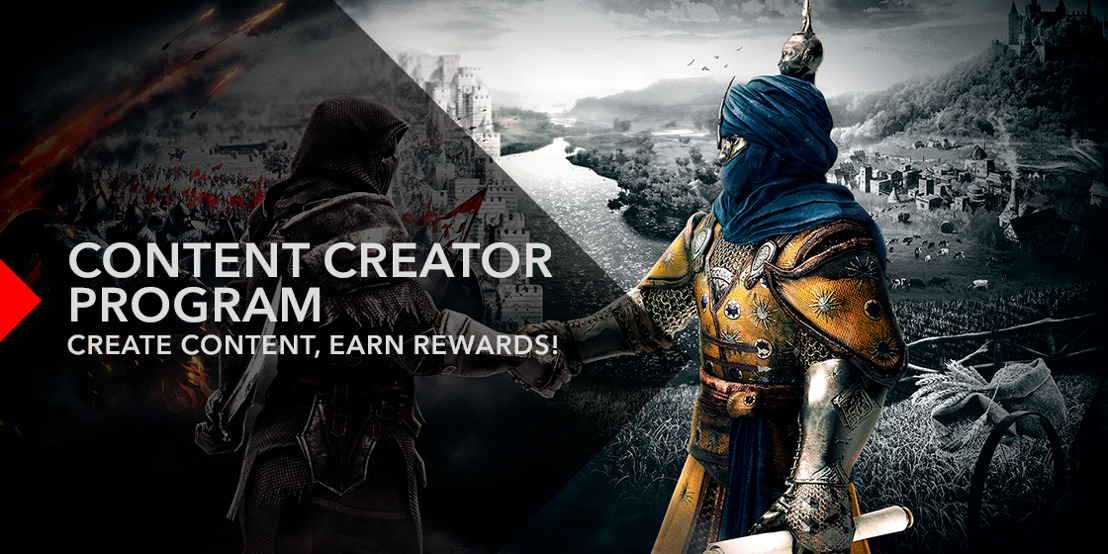 MY.GAMES CONTENT CREATOR PROGRAM
The Content Creator Program is an opportunity for video creators, streamers and social media influencers to earn revenue, rewards and grow their channels! Sign up for the Content Creator Program today!
BENEFITS
There are a variety of ways we strive to support our creators including:

Revenue Sharing
When you join the Content Creator Program you will be eligible to earn revenue through Conqueror's Blade Packs sales on the MY.GAMES Market. When players purchase the Conqueror's Blade Content Creator Program Pack(s) available on the Market, creators will receive 25% of the revenue from that sale. You can find more information on Revenue Sharing here.

Grow your Channel
One of the main goals of the MY.GAMES Content Creator Program is to support creators to help them grow their channels. This support will come in the form of:
Giveaways: As new content is added to the game, staff will provide creators with codes that can be given away to their audience. These codes will reward the players with items ranging from in-game resources to unique skins and troops. The more your channel grows, the more codes you'll get to give away!

Promotions: Your channels, videos and streams will have the chance to be featured on Conqueror's Blade social channels and website.

Rewards: When you join the MY.GAMES Content Creator Program you will be given rewards to help you progress in the game allowing you to feature the best and most interesting game play to your audience.
Connect with the Team
Members of the Content Creator Program will gain access to the Conqueror's Blade team who will be available to provide information about the game, insight into upcoming patches & updates and organize the promotion of your channels and activities.
WHO QUALIFIES
The Content Creator Program is open to creators and influencers who want to create content for Conqueror's Blade but there are certain prerequisites for who is eligible to join the program. The prerequisites can be found here.

It is important to note that while we strive to support as many languages as possible in the Content Creator Program, some knowledge of English will be necessary in order to work with our staff.

If you have a large audience and are looking to partner with Conqueror's Blade outside of the Content Creator Program, please feel free to contact us directly.
HOW TO SIGN UP
Signing up for the MY.GAMES Content Creator Program is quick and easy! Simply fill out the Content Creator Program sign up form and a member of the Conqueror's Blade team will contact you within seven (7) days.

You will find more information on how to sign up for the Content Creator Program here.

[FAQ]